Hotel Transylvania 3 on DVD and Blu-Ray + Fun Movie Themed Activites!

Looking for a family-friendly Halloween movie to watch during October? Well, I am here to let you know that HOTEL TRANSYLVANIA 3 is now available on Digital HD and arrives on Blu-ray™ Combo Pack and DVD on October 9th!
Below are a few fun things to help make your movie time with family and friends watching this flick that much more exciting!
DRACUSTRAWS & DRAC'S SPOOKY SMOOTHIE RECIPE ACTIVITY
(click the image to download for the craft and recipe)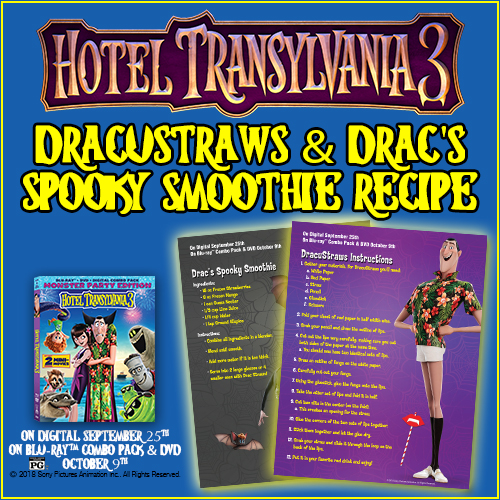 There are some ideas to make this a fun movie night or sleepover! Check out the clip below for these ideas!

We are excited to see this film after enjoying the first two. I've heard good things and that it's ranking in popularity for being in the top 5 by Redbox users for family-friendly Halloween movies!
We are having a party in the next week or so to celebrate it's arrival to DVD and Bluray and can't wait to share all about it here on the blog. Be sure to come back by to check that out and perhaps be inspired to throw your very own Halloween themed movie party around this film!