NCV Dad's Bible: The Father's Plan Hardcover {review}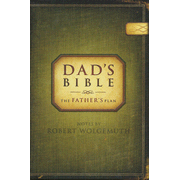 NCV Dad's Bible: The Father's Plan Hardcover
By Robert Wolgemuth / Thomas Nelson
If you are stumped as to what you are going to get your Dad or your children's father for Father's Day this year, you might want to check out the Dad's Bible: The Father's Plan! I was given the opportunity to review this Bible through Book Sneeze and I must say it's a great gift!

This hardcover Bible is put together wonderfully and offers so much information in means to encourage and uplift men of all ages whom are looking to become the men and father's God has created and lead them to be.
Features
Articles

Walking in Authority – 100 articles on how dads should walk in the authority God has entrusted to them
Godly Character – 100 articles designed to teach and challenge
Passing it on- 50 articles about igniting the faith of the next generation

Dads in the Bible (30)- a look at the lessons taught by biblical fathers

Building your Children – 7 articles about nurturing and developing the potential in your children
Insight- 250 articles giving practical, biblical answers to life situations
Question and answer section- how to answer the hard questions

Topical Index
Presentation page
Hardcover
After learning about this Bible, I also learned there is a perfect companion the Mom's Bible, in which I am totally going to look into to purchase for myself. This Bible  retails price is $29.99 and is a real steal if you ask me! I know my husband will love this Bible and I can't wait to give it to him on Father's Day.
Disclaimer: I  received a copy of the Dad's Bible: The Father's Plan for free to review for Book Sneeze.(Thomas Nelson)