Raising a Modern-Day Princess: Inspiring Purpose, Value, and Strength in Your Daughter By: Pam Farrel, Doreen Hanna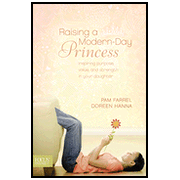 Raising a Modern-Day Princess: Inspiring Purpose, Value, and Strength in Your Daughter
By Pam Farrel & Doreen Hanna / Tyndale House
Help your daughter journey into womanhood with a healthy self-image and knowledge of who she is in Christ! Writing from their personal experiences, co-authors Farrel and Hanna stress the importance of creating a rite-of-passage ceremony for your young woman; provide helpful tips in chapter-end "Mentor Moment

My Thoughts…

The book Raising a Modern-Day Princess by authors Pam Farrel and Doreen Hanna has  moved me and it's entirely changed my way of thinking in how to raise my own daughter as well as taught me how to influence the young woman around me.
Grace, dignity, inner beauty, and self worth, traits every daughter of the King should have instilled into her life. Often enough no one is taking the time to celebrate daughter's journey into becoming the woman God has created them to be. It's not hard at at all to do this, in fact Raising a Modern-Day Princess suggest many types of rite of passage celebrations both big and small that can change and impact a girls life forever. The examples of personal testimony of mothers, fathers,  and daughters that took part in this are ever so moving.
Not often is it that a book speaks such revelations that tugged at my heart strings and left me in tears. I encourage every sister as well as brothers  in Christ to pick up this book and read it.
I promise you, if you take the advice of this book, whom ever God has laid on your heart will feel purpose, value, and strength in moving forward and following the path God has laid in front of them.
This book is on the top favorite reads for 2010 and ten for me, and I am quite honored and blessed by those that contributed in writing these words of truth. If I could, I would personally give everyone I know a copy of  Raising a Modern-Day Princess.
I give this book 5 out of 5 stars.
***Special thanks to Christy Wong of Tyndale House Publishers for sending me a review copy.***