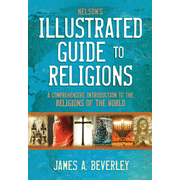 Nelson's Illustrated Guide to Religions: A Comprehensive Introduction to the Religions of the World
By James A. Beverley / Thomas Nelson
Expand your knowledge of the religions of the world with this comprehensive introduction to more than 200 faiths, sects, and cults. Written from a Christian perspective by a leading evangelical scholar, this complete and up-to-date guide provides a context for your own beliefs and worldview. The easy-to-follow format makes it ideal for students and laypeople alike. 640 pages, hardcover.
My mom and I both are to be reviewing and reading through this book! I'm excited! I think as christian we all should have a guidebook about religions in our library so as to better understand what others believe just in case the topics ever arise in question toward us.