Mom's Most Wanted Twitter Party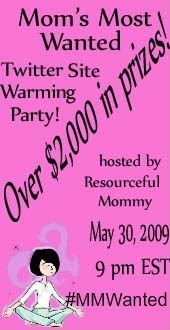 Twitter Party May 30th, 2009 at 9 pm EST and that would be 6pm PST( my time).
Tweeters follow @resourcefulmom (our host) @momsmostwanted @br8eyes @singlemomclaire and @singledadmat (The Mom's Most Wanted Family of Bloggers!) so that you can follow the #mmwanted Twitter Site Warming Party! (See the site for more info.)

I'll be there, how about you?